As a John L. Scott broker my mission is to serve others, and deliver transactional excellence and client satisfaction. That means I work tirelessly to make your home buying or selling process as efficient, stress-free and lucrative for you as possible.
Representation
I take pride in consistently offering a high-caliber, full-service real estate expertise. Clients are my top priority and come first - period. My focus is to deliver the best possible results, simplify the process, and reduce client stress.
I approach every clients' transaction as if it was my own home, and do what is best for my clients

I align myself with like-minded professionals who hold my clients' best interest at the forefront of every transaction

When selling a home I use all the tools available to me including

professional photography,

Matterport 3D and Virtual Reality Tours, Tour Factory, drones, social media including Facebook & Instagram ads, and more.

The result of my marketing efforts consistently place my Sellers' homes ahead of the competition on important consumer sites like Zillow, Trulia, and others. The data below is an example from a recent listing (data courtesy of Zillow Premier Agent App):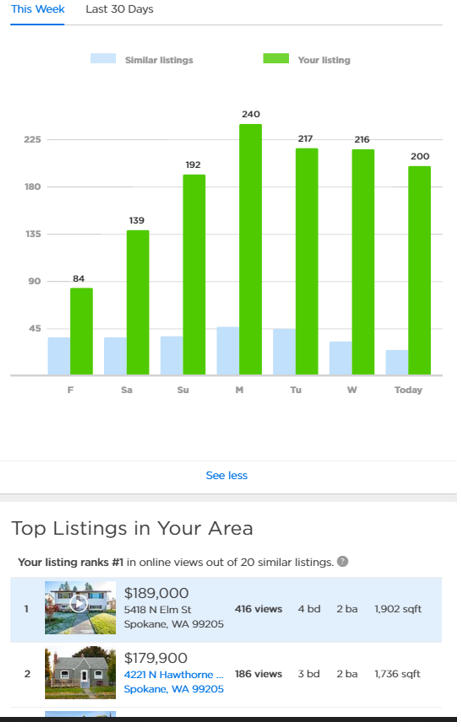 Expertise
The real estate market is hyper-local, seasonal and temperamental—in other words, it can change on a dime. Technology has made information more accessible to everyone, but it can be difficult to keep up with recent events that affect home values. The benefits of working with a licensed real estate professional go far beyond what a mobile app, online video, or website can do.
I provide my clients with information on market seasonality and information relevant to what is happening in their specific neighborhood. This customized analysis includes recent comparable sales that factor into an offer and acceptance strategy.
Negotiations
Successful negotiations help move a conversation forward and transform the process into an agreement that's a win for all parties. Negotiation is not only a skill, but a mindset. I keep my clients' best interests top of mind as I negotiate on their behalf.
Transactional Excellence
I am dedicated to transactional excellence for every listing and sale. What this means for you is that I oversee every detail of the real estate transaction. The transaction is far from over once an offer has been accepted. I monitor inspections, appraisals, title, escrow and loan processes. Communication and collaboration with all the partners and parties involved with the transaction ensures a smooth and timely closing. I am committed to my clients before, during and after a sale.
My Career Journey
Following a successful a career in the hotel industry, I took a leap of faith into the technology side of hospitality as a Sales & Marketing Executive, gaining experience with mobile apps, digital marketing, online commerce, security and workflow automation. This vast experience enhances my work in Real Estate where I work with people from all walks of life, use my sales & marketing skills to benefit my clients, and ensure that my clients' listings stand out through my extensive marketing and social media capabilities.

My listings consistently have substantially more views and top display on sites like Zillow, where many home buyers start their search for a home. Just like a Google search, on Zillow your listing needs to be near the top of a search to be noticed.